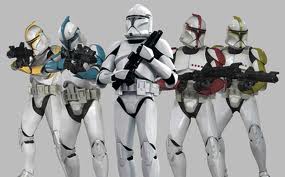 This page is for united player ranks.
Ranks
Private
Corporal
Sergeant
Lieutenant
Captain
Major
Colonel
High Colonel
Lieutenant Commander ( there can only be up to three lieutenant commanders at a time )
Commander ( there can only be one commander at a time )
Special Rank
General: Can only be given to one untied player at a time and can only be passed on if the general dies ( in real life ) or is not heard from within a year but, if they return then he will be a commander. The only other way a new general can come is if over 50% of the untied players vote to impeach him.
How do I earn ranks?
Ranks are mainly earned by loyalty however, when skilled you can earn ranks faster.
Ad blocker interference detected!
Wikia is a free-to-use site that makes money from advertising. We have a modified experience for viewers using ad blockers

Wikia is not accessible if you've made further modifications. Remove the custom ad blocker rule(s) and the page will load as expected.